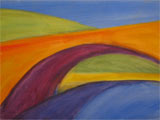 When I started painting I read a book about watercolour. It said, "If you paint long enough you will become an abstract artist." No way I thought.
You know what happened? Yup, it was true.
Check out this 2-1/2 minute lesson. You will be surprised.
Watercolor is perfectly suited for abstract painting. Technically, abstract art is a representation of the essence of the thing, and not necessarily the appearance of it. An example is this painting of a stone bridge. Clearly, the bridge does not look like that, yet I think it expresses the nature of the bridge,
This is a map of the captains color
palette. See materials list below...
The map shows the location of each of the paints. The group on the left are the sedimentary colors. Those in the right are the non sedimentary colors. The palette is just a cut down ice cube tray.
PAINTS
...( sedimentary )
0 - Red
1 - Yellow
2 - Green
3 - Blue
...( non sed. )
4 - Cool Blue
5 - Warm Blue
6 - Warm Red
7 - Cool Red
8 - Warm Yellow
9 - Cool Yellow

PAPER
BRUSHES