Abstract Art & Why You Should Be Interested

Art lessons on Video; beginner through advanced.
Tutorials tips and techniques on how to paint with watercolor.

When I started painting I read a book about watercolour. It said, "If you paint long enough you will become an abstract artist." No way I thought.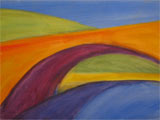 You know what happened? Yup, it was true.
Check out this 2-1/2 minute lesson. You will be surprised.
Watercolor is perfectly suited for abstract painting. Technically, abstract art is a representation of the essence of the thing, and not necessarily the appearance of it. An example is this painting of a stone bridge. Clearly, the bridge does not look like that, yet I think it expresses the nature of the bridge,